One year ago, a small group of avid NBA fans came together and asked a simple question: "What would it be like to collectively own and operate an NBA franchise?" 
In just one year, we've attracted talented and driven members from all over the world to achieve the ambitious mission. We've spoken with front office and ownership groups, current/former players, and agents. With thousands of members and hundreds actively contributing, we are indeed becoming The Internet's Home Team. 
To bring this idea to life, our team has spent the last year heads down working towards a new era of decentralized community governance and fractionalized sports team ownership. 
Over the past 60 days, a group of "Jerrys" have been curating the physical manifestation of how web3 technology and the real world can intersect. We planned to do something no one's ever done before - create the World's FIRST Physical NFT Basketball Court.
Now, as NFT NYC approaches, we invite you to join us IRL to witness what will go down as a historic basketball event, showcasing a pro 3x3 tournament and a chance to mint history.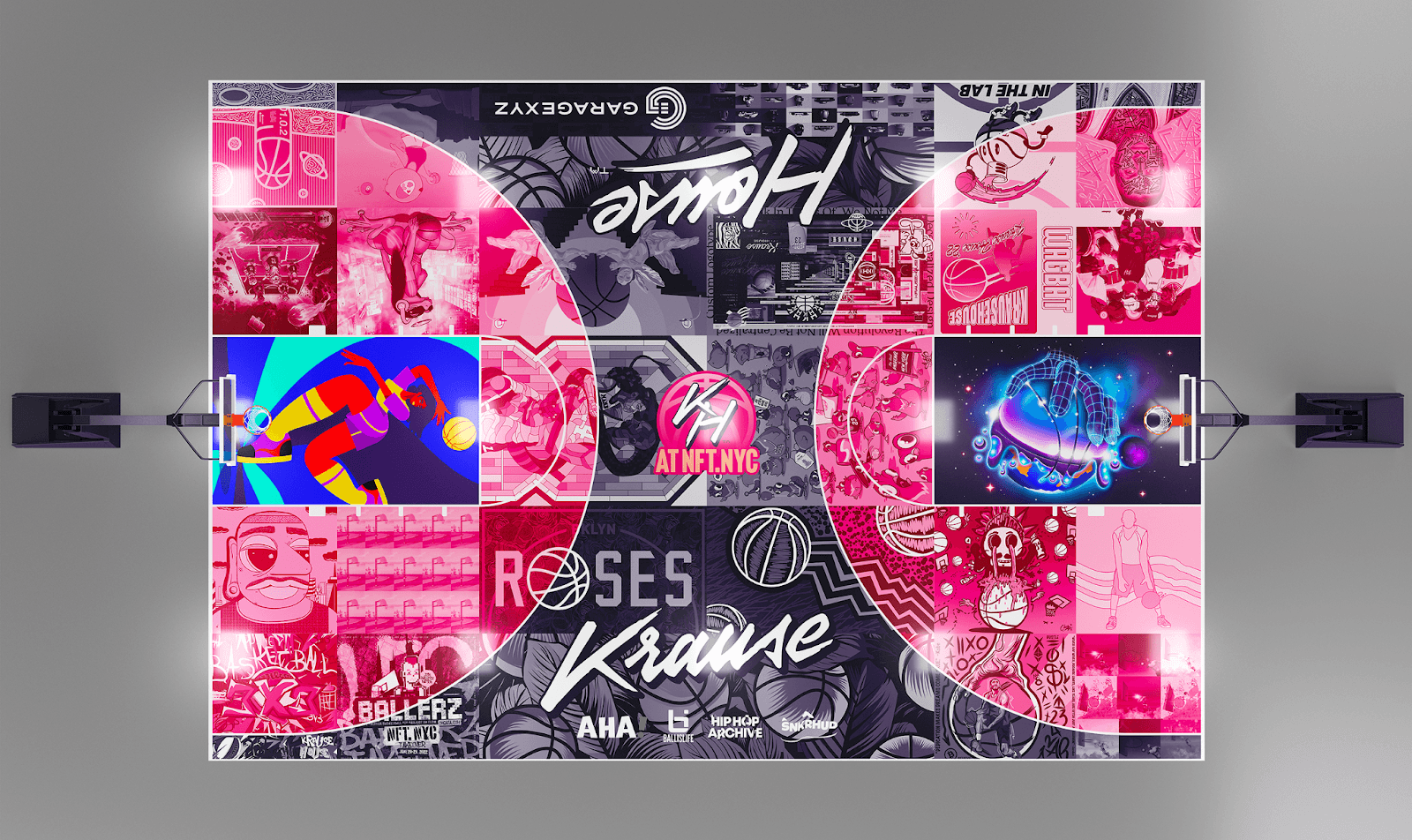 How We Got Here
For the undrafted, Krause House is a decentralized autonomous organization with a mission to own and operate an NBA team. What started as a late-night idea with a few internet friends, has now turned into a growing community of over 5,000 strong. From day one, we've harnessed the power of our collective minds and community network to make waves in the sports industry. 
On our roadmap, we believe that we need to prove credibility which includes minority positions in major leagues & majority ownership in smaller leagues like our recent purchase of the BIG3's Ball Hogs, a team coached by NBA legend Rick Barry.
Over the last year, we've assembled, by definition, a "group rallying around a mission that coordinates through a shared set of rules enforced on the blockchain." But to us, we're just a community of hoop fanatics that are crazy enough to buy an NBA team. Through our first NFT sale in November 2021, we welcomed over 2,000 "Jerrys" (community members) into the fold and raised a war chest of 1000 ETH to hit the ground running on our path towards making history. 
Despite our impressive advancements, the most beautiful part of the journey so far has been the ability to bring together so many like-minded people. Our global community is made up of members from all walks of life, each with their own unique skill set. But regardless of our past experiences, cultures, or socioeconomic backgrounds, we have one thing in common: 
Our love for the game of basketball.
Bringing the Court to Life for NFT NYC
Our goal was to bring something into the world that neither the sports or web3 world has ever seen.
We wanted to introduce something that the world could touch, see and feel while still acting as a gateway to our basketball community. 
For our Crypto friends, we wanted to share a new application for web3: Fractionalizing a full-sized, physical basketball court curated by 25 different artists.
For our Basketball and Sports friends, we wanted to not only introduce the concept of fractionalizing team ownership but also create a basketball experience beyond their wildest imaginations. And the best part, a frictionless experience powered by web3 tech.
The Krause Court Collection
This physical full-size court is currently being built in NYC getting ready to reveal IRL at our Krause House JAM. Right after our event, we plan to break the court up into one-foot squares and turn it into NFTs that can be minted with a wallet or using your credit card. Once minted, not only will you receive a digital membership to our community but you will also be shipped the same physical piece of the court that was randomly minted to you.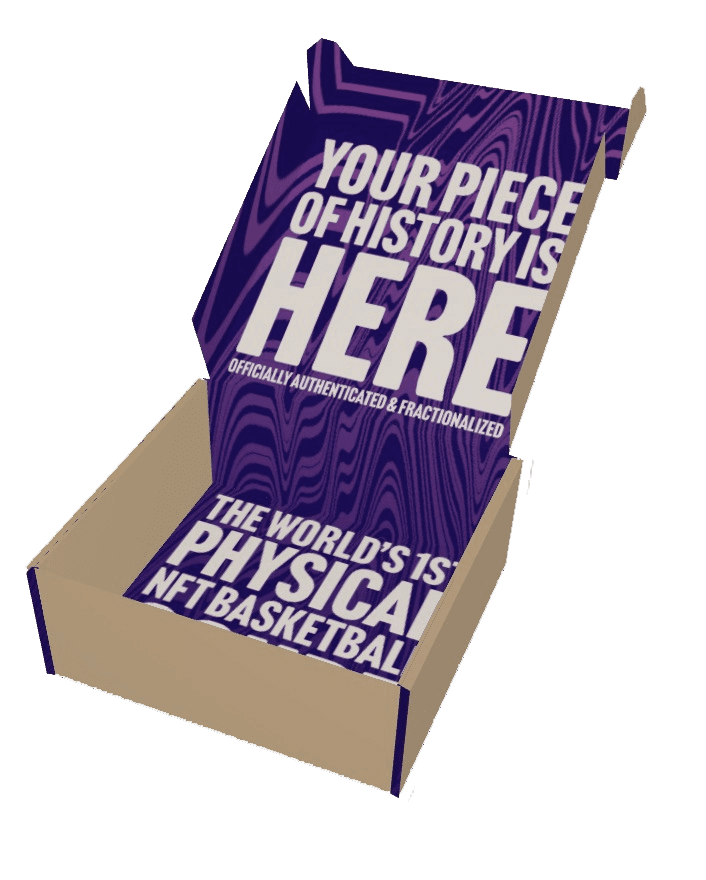 "NFTs are an incredible solution to digital scarcity. Obviously, the NFT market is flooded with JPEGs that don't have much utility, but that's what makes Krause House's experiments so powerful. We're packaging atoms (the court) & bits (NFTs) woven with the culture of basketball. We're incredibly excited to be a part of history bringing this concept to life."

- Commodore, co-creator of Krause House

"Collectibles and sports fans have made a great pair for decades. It's hard to describe the feeling you get when adding a rare piece to your collection. Drawing much of our inspiration for Krause House from the '90s era NBA, we fell in love with the concept of coupling the feeling of physical collectibles with the utility of digital ones. Couldn't think of a better way to kick-off our first big IRL event."

- Flex Chapman, co-creator of Krause House
The World's 1st Physical NFT Basketball Court
A Game Plan From Way Behind the Arc:
Krause House JAM: On June 22, 2022, from 3-9 pm at the Classic Car Club Manhattan, we will be hosting eight pro teams for a single-elimination 3-on-3 basketball tournament on the world's first custom-designed and built NFT court. After the tournament, the court will be fractionalized into over 1,000 pieces and sold as NFTs. You can RSVP here.
The public mint will take place on June 15th, 2022, prior to the June 22 event, ranging in price from .25 to 25 ETH. All artwork will be revealed at the tournament with holders receiving their physical court piece in the coming weeks. All holders will receive access to the Krause House community, future basketball team ownership conversations, and management opportunities.
A portion of all NFT sales will be donated to a basketball-focused charity of the community's choice, and all artists, players & partners will receive a % of total court NFT sales for their generous time & love given to this project.
Perhaps the most significant of all, this NFT mint marks only the second time we have opened our doors to new members. As we embark on this exciting event and welcome a new cohort of "Jerrys" into the DAO, we wanted to take a moment to thank our existing community for their support and share with the world what makes this KH community so special. We can't wait to see you all on the 22nd.
Special thanks to everyone involved to make this happen. This truly couldn't have happened without understanding our crazy vision :)
Pink House Club - @0xdbag
One of Once - @JusJonezin @NarayMusic
Applied Arts - @aarts_agency
Shanny - @imjust_nft
AlxBrands - @AlxBrands
Album Trading Cards - @____ATC
Snap Sports - @Snapsports
71 Visuals - @71visuals
Nav - @navinramharak1
PERCS - @getpercss
Garage XYZ - @GarageXYZ
SNKRHUD - @snkrhud
Hip Hop Archives - @nftwithattitude
Ball is Life - @Ballislife
Ultimate Hoops - @UltimateHoops
Huupe - @huupeofficial
Ebbs Brewing - @drinkebbs
BLVKHVND - @blvkhvnd
In the Lab - @InTheLabBrand
Dev In The Lab - @DevInTheLab
Ballerz - @BALLERZ_NFT
Kirby Porter - @KirbyPorter_
Chibi Dinos - @DinosChibi
Tech Runs - @techrunsdao
CRAZE - CRAZE
Ostertag - @ostertagmademedoit
Khalid LeShawn - @khalidleshawn
Steven Paris - @sparisgraphics
April Walker - @iamaprilwalker
Kelsey Amy - @NFShme
Blake Jamieson - @athlete.portraits
Peace Node - @peace_node
Adam Jason Cohen - @adamjasoncohen
Danii Pollehn - @daniipollehn
Strickner - @overglowartwork
Antonio Rodriguez Coe - @itstonycoe
Mawdoods - @mawdoods
Tomes/Good Metacn - @goodmetacn
Helen Eve Ratner - @helenratner
Hadj Dieng - @hailtheart
Misha Libertee - @mishalibertee
Ken Forbes - @kenforbesart
Blanco - @robertblanco_
Calicho - @calichoart
Lucine - @lucinevisions
The Black Kristoff - @TheBlackKristof
Princeton 3v3 - @Princeton3x3DAO
India Rising - @IndiaHoops
Team Big Mac & Waldo - @bigbad_mac @waldo_abawi
Jordan Southerland - @1footgod
Zayy Soblessed - @ballislifezayy5 
Maxwell Pearce - @maxwellpearce
Christopher Spell - @againstoddsathletics
OS Sync - OS Sync
Classic Car Club Manhattan - Classic Car Club Manhattan