As NBA fans, it's a surreal experience for Wojbombs to materially impact your life. Our phones were abuzz with Woj's latest announcing the Phoenix Suns were officially up for sale. Friends, business associates, and Jerrys (the beloved nickname of our community members) were buzzing with excitement. The messages were consistent: "Did you see this?", "Are you going to make a bid?", "How dope would owning the Suns be!?".
Very dope.
We jumped on the phone to discuss. Our initial excitement didn't match the inbound messages. After a year+ of talking with NBA insiders & private equity funds we had come to the point of view that our best bet was buying a minority share in an "off-market" deal. Our goal has always been to work with a team who understands our long term vision of building the internet's first home team. A team that fosters a global sense of belonging and pride in its fanbase, creating a vibrant and supportive environment that produces higher engagement while driving the value of the franchise for the long-term.
An open bidding process is the opposite.
Who could Sarver sell to for the most amount of money and do it quickly? Big names, big bags, & big urgency. An owner that could act quickly and deploy capital immediately.
We didn't get discouraged, but we needed a new angle. Yes, the odds of winning this particular bid were low given the names already rumored in the mix: Jeff Bezos, Larry Ellison, & Bob Iger. But what if we used this as an opportunity to tell our story? What if we used this time to educate the media, the public, & future NBA team buyers?
You learn quickly that who the media reports are in the mix, are often not actually in the mix. Looking at oddsmakers in Vegas is an interesting source, NBA insiders are even better. We started hearing more names with bidding aspirations: Shaq, Floyd Mayweather, Laurene Powell Jobs (Steve Jobs' widow), Jahm Najafi (Suns minority owner), Ernest Garcia Family (Carvana founder), Byron Allen (entertainment mogul), Larry Fitzgerald (NFL), & more by the day.
"First, think. Second, believe. Third, dream. And finally, dare." — Walt Disney
One name that jumped out to us was Bob Iger. His name continued to get mentioned from a few interesting sources. We were excited about getting the idea of Krause House in front of Bob given he was the rumored favorite to win the bid & he might personally resonate with the magical fan experience we're building given his Disney background.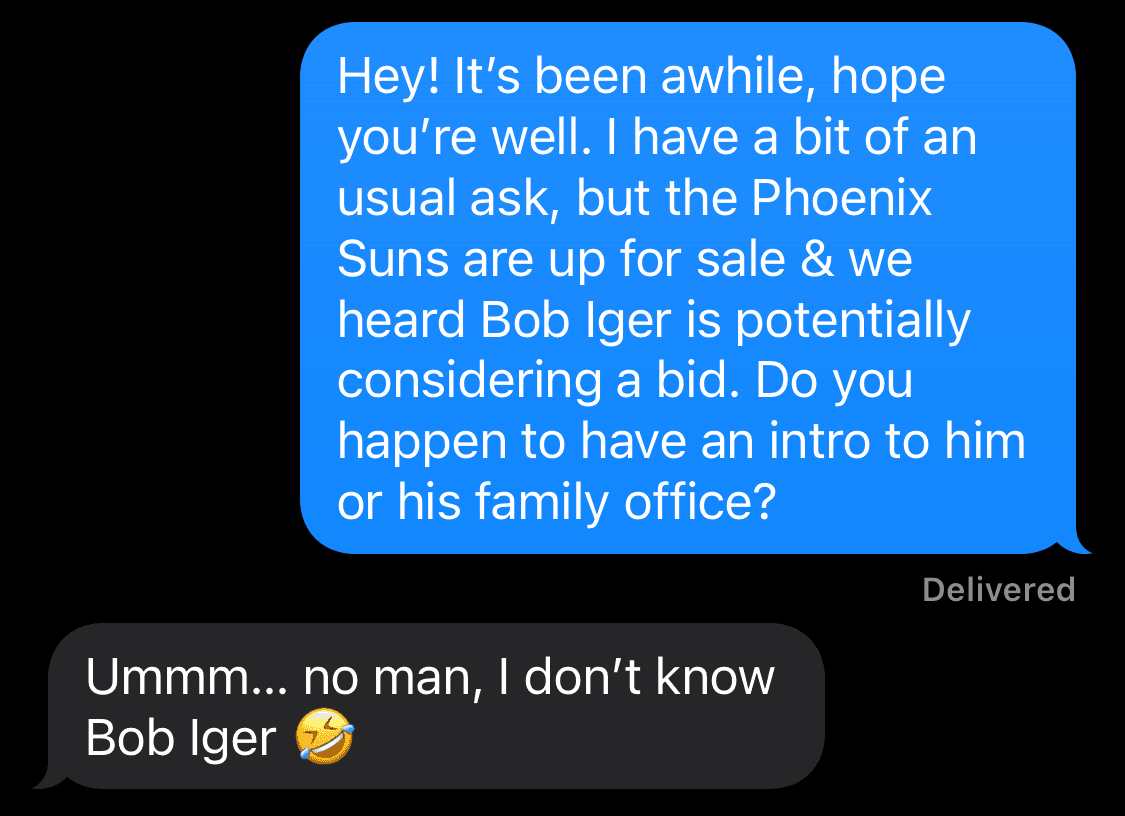 We sent countless of these messages. At the risk of blocked numbers and the "is everything ok?" replies, we stayed in pursuit of introduction paths to the shortlist of contenders. You went to Ithaca College in 1973 with Bob? You got one of these messages. Interned at Disney in 2004? If you exchanged a friendly 'hello' with Bob in the line at Starbucks, we're asking for an intro.
We spun up a Twitter thread explaining why we're the highest value-add minority ownership group you could have on your cap table & we were hoping to talk to Bob Iger. If there's one meta insight we've learned, it's the value of putting your wildest aspirations into the universe and working backwards from there.
Crazy thing is, you send enough of these and you've been careful to maintain credibility and a handful of the responses are different.
One of the beautiful things about web3 is the power of networks of networks. That's not a typo, it's a network that is made up of networks. This is something Krause House can tap into with allies like Seed Club in our network. We reached out to Seed Club where Krause House was a participant of their accelerator program. Ben Jacobs had an intro for us, he wanted to know more about our ask. A few minutes later we're connected to someone close to Bob Iger who's plugged into the professional sports world.
Who might want to buy the Phoenix Suns? 🙋‍♂️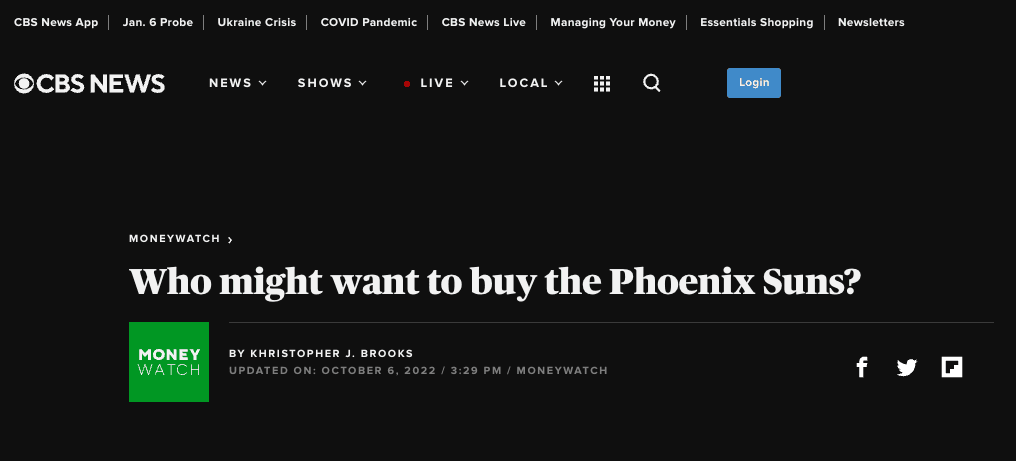 Bob Iger

Larry Ellison

Floyd Mayweather Jr.

Shaquille O'Neal

Krause House DAO
Take a moment to soak that in. CBS News wrote an article musing about who might buy the Phoenix Suns. They included two of the most accomplished business executives in the world, two of the most successful professional athletes in the world… and Krause House. Freaking Krause House!
There are two amazing things about this list:
The first four entries are people. Krause House DAO is a collective. The fact a collective is even on the list is incredible and illustrative of the trend of our concept. A collective owning a professional team makes sense. It's a matter of when, not if.

Not even a year prior did Krause House DAO officially exist. Not a single dollar token in the treasury. Just a few crazy NBA fans that actually thought they had a chance to own an NBA team. What seemed like a moonshot all of a sudden seemed well within reach. How things can change in a year.
Shoutout to Khristopher J. Brooks for including us in his article. It was another step of validation that we could reference & build upon for our conversations. We outlined in our original strategy that this phase of Krause House is all about building credibility. This small nod of support did just that. People were beginning to take notice.
Bob Iger Returns to Disney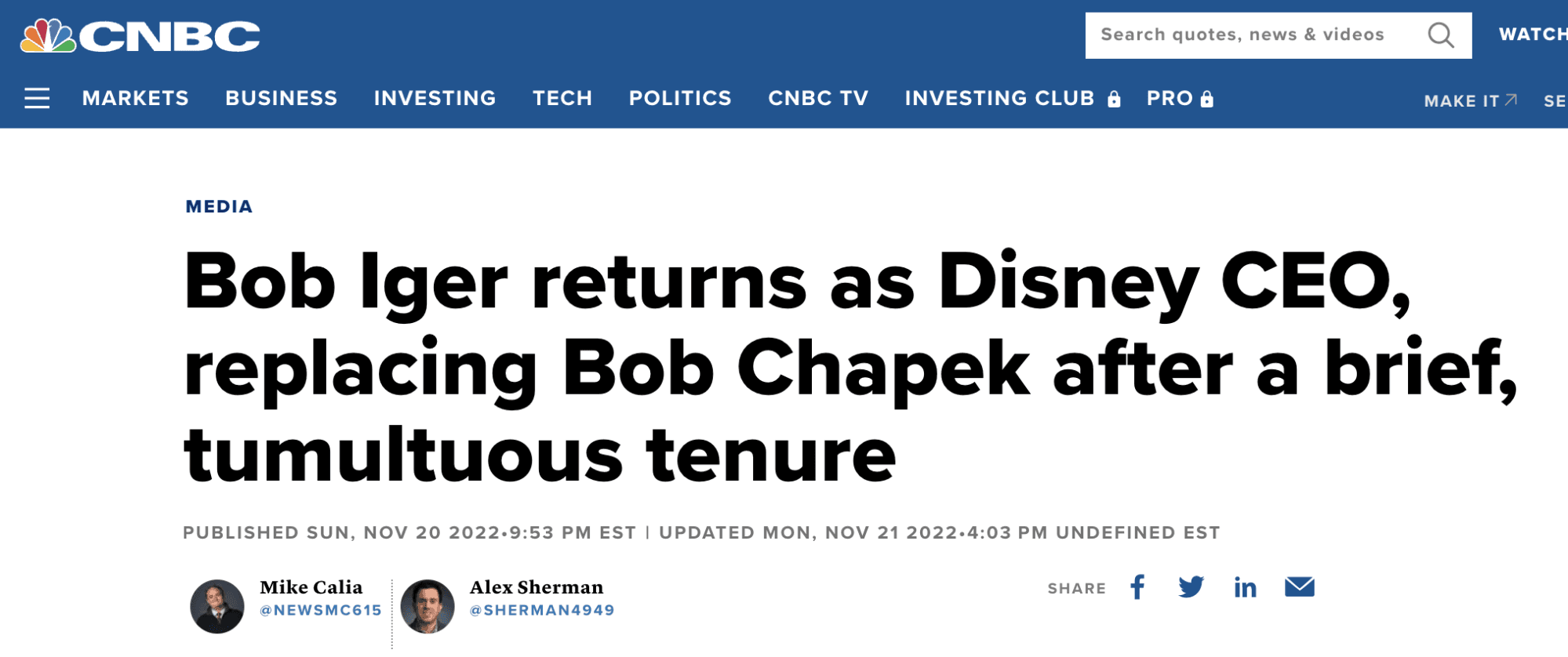 We had a few conversations with Bob Iger's team on their interest in a potential bid. Each bidding group has to balance a dance between revealing too much while often needing to raise some capital along the way to help round out the bid. The valuations of these NBA teams are now so large, there are only a handful of individuals in the world who can single handedly afford one. The Suns' rumored valuation was continuing to rapidly rise, Bill Simmons even suggested the team may go for $4b… $2b more than the "outrageous" price Steve Ballmer paid relatively recently for the Los Angeles Clippers.
The vibe of conversations was that Bob was very interested in buying a team, but there were some material issues to sort through before committing to that path. As we later found out, Bob would return to Disney as CEO. That opportunity closed, on to the next.
A Cryptic Discord Handle DM
We received a DM from a cryptic Discord handle. That's not the abnormal part, we get DMs from cryptic Discord handles every day. This particular DM was looking to talk to someone at Krause House about joining an NBA bidding group. They had heard Krause House was designed to do exactly just that.
Putting out your audacious mission and working in public has some beautiful advantages, this is one of them.
We quickly hopped on call to learn more. The ownership group was looking to increase their bid after hearing about the rumored leading bidder. They wanted to increase their bid by about 25% and were exploring who might be interested in joining.
One of the most challenging things about Krause House's pitch is that we're different from just silent money. In fact, that's our value proposition. We believe we're the highest value-add minority owner you can have on your cap table. The way we position ourselves to NBA owners is that we're the legal structure of a private equity fund, but we come along with a digital global community. This community is a conduit to unlocking the team we're partnering with to become the "Internet's Home Team".
To pull this off correctly, you need the majority owner to fully believe in the mission & empower that community through delegation. That's why it's so important for us to talk to & work with a majority owner who's excited about what we're building.
In this particular case, this bidding group was focused first and foremost on assembling the capital required to make the successful bid. The subtleties of our pitch being "the internet's home team" needed to wait. This is part of the reason that we originally were skeptical about being involved in a "market deal". The pace is too fast, the process is focused on increasing the bid amount, not plotting on how to grow the valuation post-sale.
With that being said, we're always open to find ways to simply start by getting on any cap table. The big challenge with this particular ownership group was that we needed to talk to the controlling interest first, before we'd be willing to sign a LOI for tens of millions of dollars to join the ownership group. If there's one thing we've learned in this space, it's that reputation is everything.
Venture Capitalists Explore The Suns
We woke up to a message from one of our Jerrys, who goes by the handle Dluxe, with a rumor regarding a bidding leader for the Phoenix Suns. Venture capitalists were allegedly in the bidding process. Interesting. Commodore & Flex both come from the tech startup ecosystem with a fairly strong network. We began outlining the people involved in the bid from this newly discovered ownership group.
This is one of the most challenging aspects of working with a market deal, there are ownership groups forming silently & coming together quickly to get a deal done. The only way to know who's in the mix is to be in the mix or have NBA insiders feed you information.
We got to work quickly mapping out potential introduction paths. To add to the fast paced work, Flex & Commodore were in the same city preparing for a big meeting for Krause House while this was ongoing. Commodore found two personal connections from his startup days.
"Hey, it's been awhile since we last caught up. Hope you & yours are doing well. Do you happen to know [ ] [ ] from [ ] [ ] well enough for an intro? I'm looking for introduction paths to discussing his rumored Suns bid."
We've sent countless of these types of messages over the past year+. We're sure that our friends & colleagues get a little triggered when seeing an inbound message from one of us.
A few hours later Commodore received a reply, "We met a while back at a conference. I wouldn't say I know him well, but enough to send your blurb along."
This is the most complicated response to get. Every time you ask for an introduction, you spend a little social capital. All it takes is one introduction to get a deal done, but all it takes is one low affinity introduction to potentially tank your entire pitch. The goal is always to have a high affinity & strong introduction, but with a time crunch — beggars can't be choosers.
"Okay, let me try one more path and I will get back to you."
Commodore sent off an email to another introduction path with a similar message.
No response.
Do you take the low affinity introduction? Do you wait? Do you tap more lower odds introduction paths? This is the game that is played in these high level stakes.
We chose to wait.
That evening we got an email from [ ] introducing us to [ ] [ ].
"Meet [ ]. You should follow up with him ASAP about the Suns opportunity."
At this point, our meeting had concluded & Commodore was on a flight back home working 36,000 feet in the sky. "I'd love to talk as soon as tonight."
At this point, we've already talked to a few bidding groups. The conversation has generally been the same: "How much money can you bring to the table?", "Your idea is super interesting, but let's talk post-close about it more in-depth."
This call was different.
[ ] immediately understood the value proposition. He was excited about the prospect of implementing it for the Phoenix Suns in a deep & meaningful way. We talked about many of the different ways we could execute this, diving deep into the idea of remixing access / equity / governance for fans to become more deeply engaged with a team.
One particular comment got us really excited about all of the hard work that's been going on at Krause House. "Of all the private equity funds pitching me to get in on the bid, this is a private equity pitch that jumps out above all the rest." Let us explain more about what this means & why we were so excited to hear about it.
In the past few years, the NBA has allowed private equity funds to join the ownership groups as minority owners. Since the "Jay-Z Rule" (2015), the ownership group has to be ≤ 25 owners & each owner must own at least 1% of the team. The rule notoriously came out of the New Jersey Nets selling Jay-Z 0.15% of the team in exchange for publicity & co-branded ventures affiliated with the Nets move to Brooklyn. Allowing private equity funds materially opens up the accessibility to one of the world's most exclusive assets, NBA ownership. The LP (limited partners) of a private equity fund that's investing in a NBA team, now have access to ownership without a minimum $25m check.
As of the founding of Krause House, this became the focus of our legal work. How could we use a private equity fund structure with a twist that is fully NBA by-laws compliant (and of course, federal regulations) along the way? Our strategy is to use a standard private equity structures that is made up of Krause House members & work with the majority owner to delegate access & governance to areas they're comfortable with to the broader collective. We'll incorporate the team's existing fan base into our ecosystem. With this in place, we'll build out experiences like decentralized scouting networks, analytics, engineering, & design to grant community members access & governance to the team.
Said plainly, Krause House uses the blueprint of private equity with the power of community.
This concept is a game changer. There will always be a place for silent money private equity, but this idea of private equity powered by community is disruptive. It's disruptive to private equity's business model. We believe that any asset that is culturally popular (art, music, sports) will be disrupted by this model. Aggregating capital is no longer the unique differentiator of a private equity fund, creating unique value with a community in tandem with the capital is the future.
We ended that call ecstatic. We'd just delivered one of our best pitches, the ownership group 100% gets the value proposition, & wants to work together. This ownership group is the leading bidder in a process to fully own one of the most interesting teams in the NBA.
"Let's start figuring out details next week."
Wojbomb Part Duex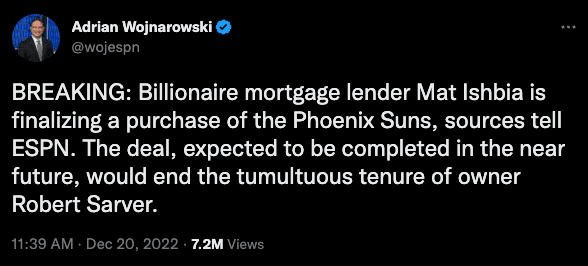 Almost 3 months to the day, another Wojbomb explodes our world.
Seemingly out of nowhere, Mat Ishbia is allegedly purchasing the Phoenix Suns. We later learned that Mat offered a fantastic price to Sarver directly, he accepted. On February 6th, 2023 the NBA Governors voted 29-0 to approve Mat Ishbia as the newest owner in the NBA.
"The only limit to our realization of tomorrow will be our doubts of today." - Franklin D. Roosevelt
When we started working on this idea, most people thought we were stupid & crazy. Some people still do. Every day that goes by, this idea is becoming more probable. Valuations continue to soar, the group of potential buyers dwindles, NBA owners need new types of capital. The new owners buying in at high valuations need new novel mechanisms to grow their valuations in the future. Mid-market & small-market teams need new ways to drive outsized valuation increases to compete with NYC & LA. NBA teams lack significant direct relationships with their fans, they've been mitigated by ESPN / Instagram / TikTok / etc.
Web3 is unlocking new ways of organizing. New ways of capitalizing. New ways of engaging. Krause House sits as an idea at the intersection of these trends & offers a compliant path for aggressive NBA owners — especially in the mid-to-small markets.
Krause House is the future of sports ownership. We will prevail. This story isn't over, but we felt compelled to share with the broader community how close we flew to the Sun.