Purchasing a minority share of a NBA team remains our ultimate short-term goal, we believe if we can accomplish this our ability to grow our treasury materially improves. This process takes time, introductions, networking, pitching, & more to get a deal done. We've made significant progress on this front, but until we can announce we've secured a position — we won't be giving out any high fives or pats on the back for our efforts.
It's been nearly a year since we showcased our initial Flightpaper, we've been putting in work on our Credibility phase. We've bought a BIG3 team, built the world's first NFT basketball court at NFT.NYC, & designed novel financial structures to have a DAO sit on a cap table of professional sports teams — yet it's still just the 1st quarter.
Where We've Been
BIG3
Owning a BIG3 team in the Ball Hogs has allowed us to experiment with fan access & fan engagement. Captained by Jerry Uncle Jon we've delivered by far the most fun seating section inside at BIG3 games. Our top community members have been able to earn access to courtside tickets & a VIP experience for our team's games. We even tapped our community for best-in-class scouting + analytics for our team & opponents. Building grassroots community in multiple cities has provided deep learnings in fan engagement that inform how we build out our playbook for working with future teams.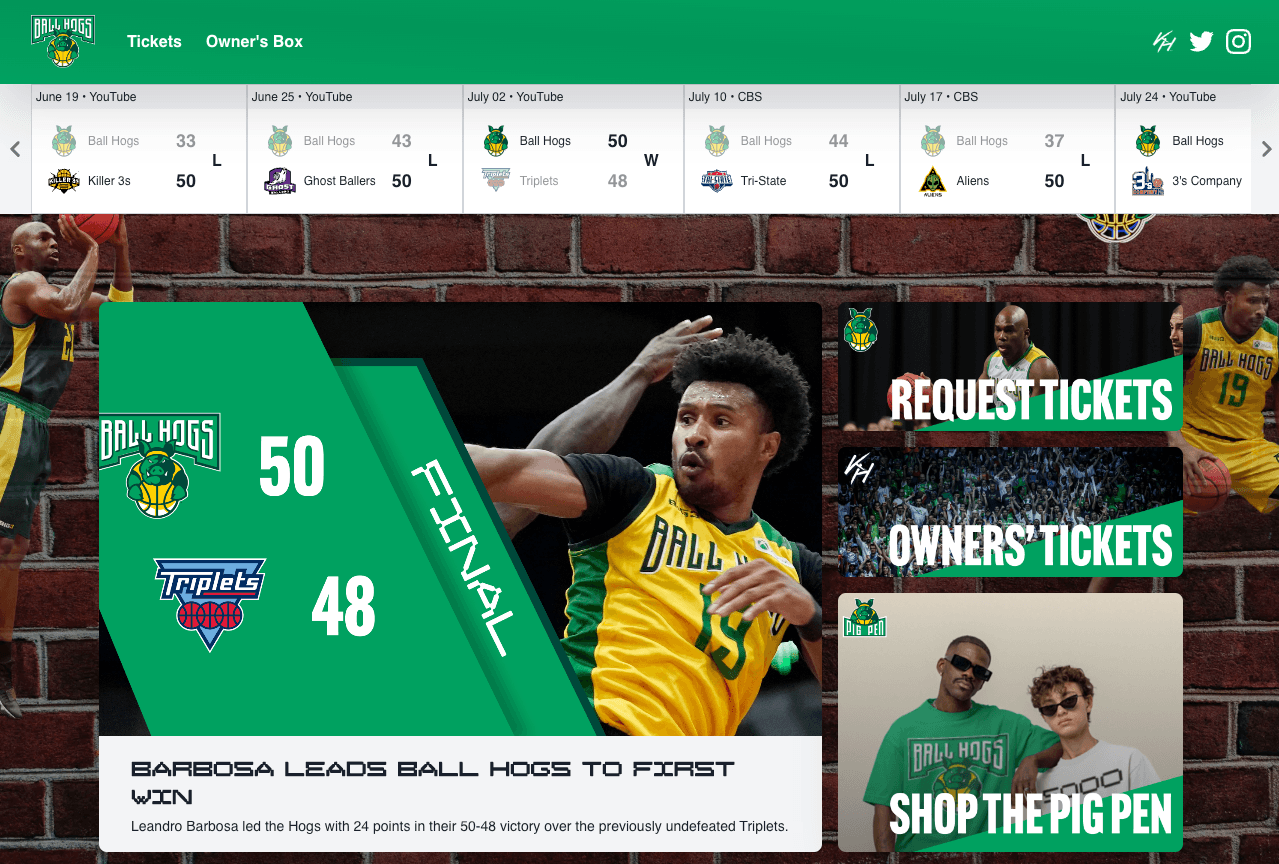 NFT.NYC
The magic of a self-organizing DAO was in full display — 8 Jerrys with event planning experience came together to throw the best event at NFT.NYC. We hosted premier 3x3 ballers on top of our world's first NFT basketball court. The KH Jam basketball court was designed by incredible artists and was both a digital NFT & physical piece of art.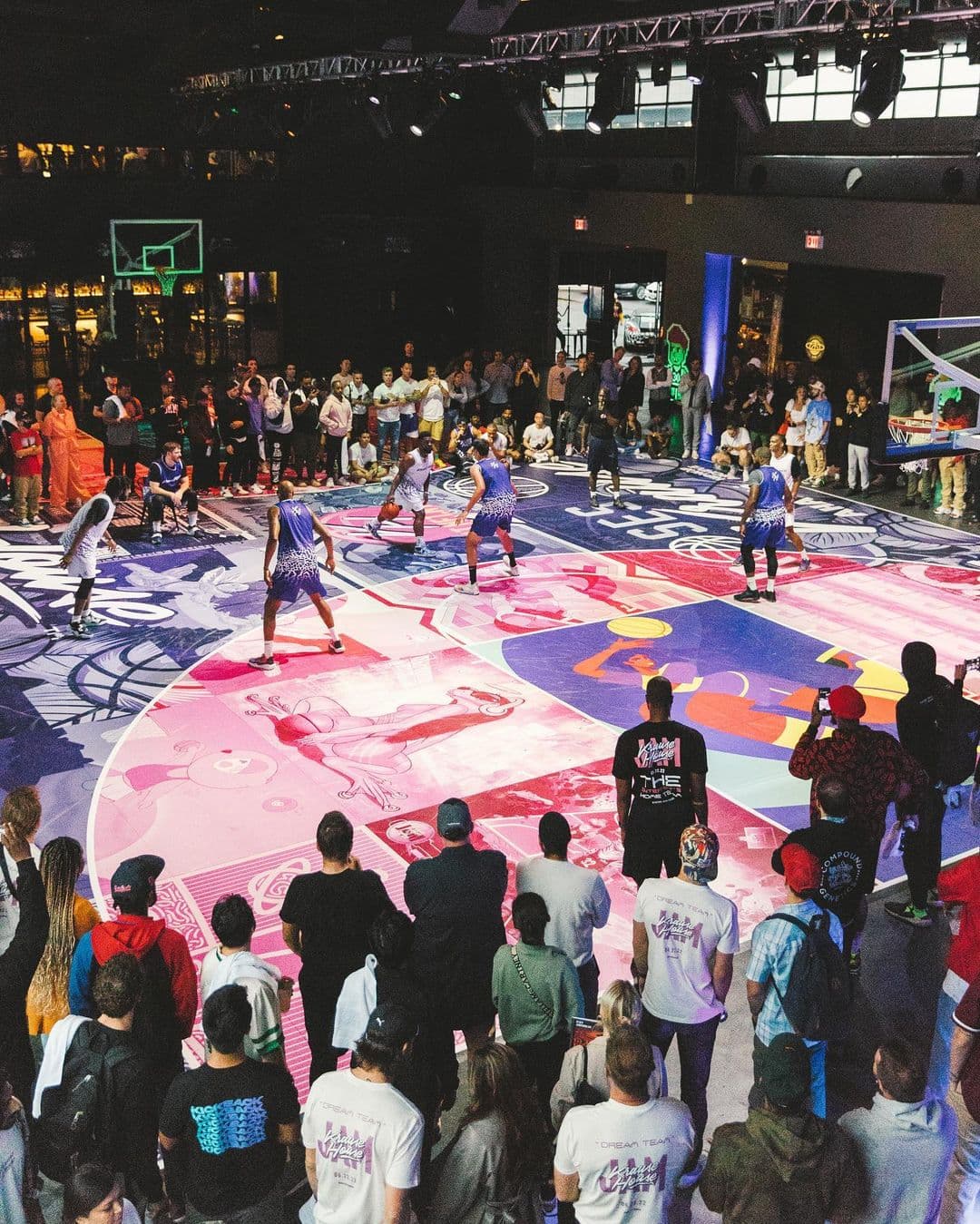 We delivered a 🔥 IRL event, debuted a new way to crowdfund physical assets, and brought basketball x web3 together. This is just the beginning of Krause House exerting itself into the physical world, look for KH collaborating with incredible brands all around the world.
Novel Financial Structures
Over the last 9 months we've been hard at work developing a novel legal structure that meets the needs of both the NBA and KH Jerry's. We think we have a solution — this will most likely require several separate legal structures via a sub-DAO model to hold any equity. These entities will be made up of "Jerrys" & will be in full compliance with the league + local jurisdiction's rules. It will depend on each actual position, but the strategy is that governance & access continues to be delegated upwards to $KRAUSE & NFT holders to involve our core broad community.
Using a sub-DAO model only accessible to NFT holders (Jerrys) is one component of our novel approach. We don't want to give away our "secret sauce" here, but the high-level context is that the NBA recently approved private equity firms to own equity within NBA teams which allows for new interest groups to become minority owners in an NBA franchise. There are novel legal, operational, & financial vehicles to interact with DAOs. Krause House is sitting at the forefront of this behemoth effort that will continue to evolve over time. There will not be a single "fits-all-sizes" solution to our journey — we'll build evolving solutions together.
Ultimately these innovations are composable fan participation and ownership as a protocol. The ability to generate derivatives, social staking, & NFT-based ownership will serve as foundational features of a protocol empowering equity, access, & governance.
Where We're Heading
The idea that is Krause House will happen, it's just a matter of when. Yet we have a limited amount of treasury to bring this idea into reality. As crypto navigates a bear market & we work against a shortening runway, we need to make tough prioritization choices to bring the vision to reality. We'll be looking to scale back expenditures that are not core to our first major milestone — acquiring a NBA minority position.
We believe if we can successfully acquire a NBA minority position, the ability to generate revenue and/or do a treasury diversification materially improves. Additionally, we've invented a new capital structure to work with to accomplish the many (and often competing needs) of our situation. We're calling this entity: KH Capital.
When most people hear the word "ownership" they imply 3 things rolled into one:
A traditional "owner" has equity in the team, control via governance, & access to owner experiences. Krause House is deconstructing & remixing these 3 concepts for sports. A common misconception about our mission is that it would be chaos to have 5,000 members telling a team what to do. We fundamentally believe in a participatory governance model to influence decision making & access to a professional team.
What KH Capital empowers us to do is to bring in capital at a scale (8 figures+) that believes in Krause House's mission & community. This gives us negotiating legitimacy & leverage to secure positions within professional sports teams around the world. Jerrys would be able to participate in a portfolio of teams and/or invest in positions where they are eligible to (meeting league + regulatory requirements).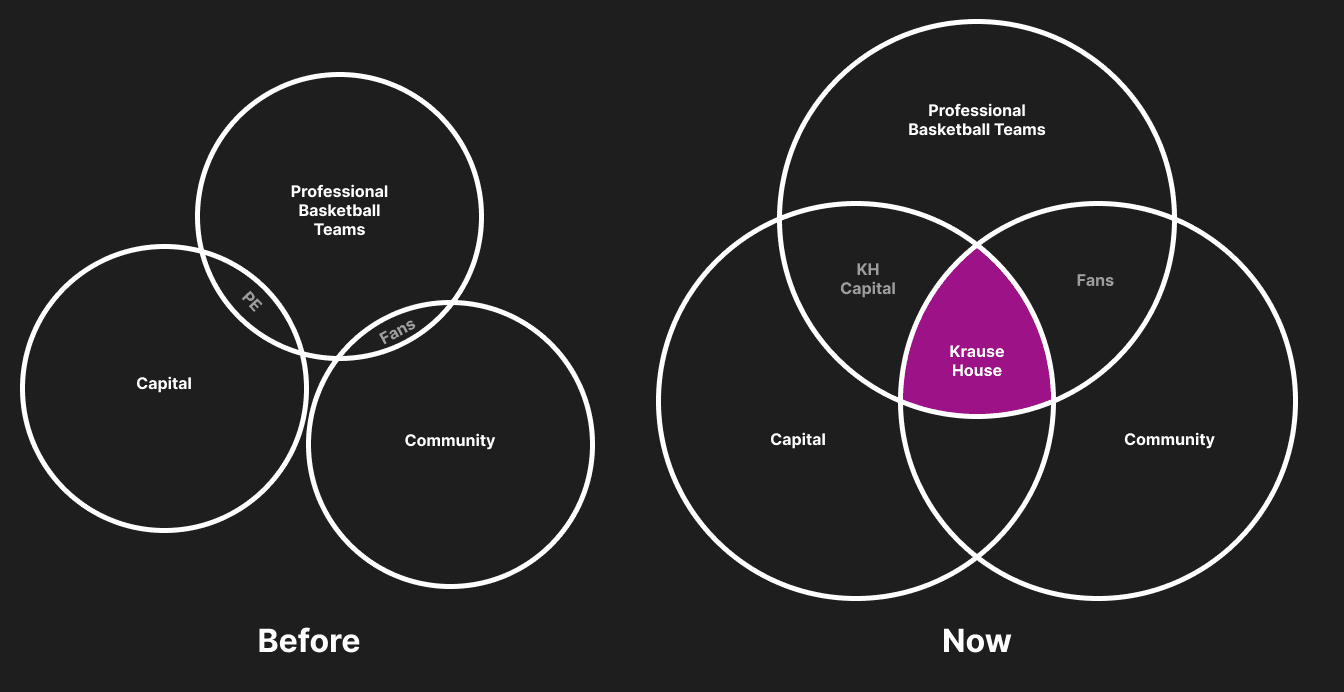 In minority ownership positions, partnering with the right teams is paramount. Delegated governance & access to interesting functions of a team can then be extended to the Krause House community.
International basketball opportunities thus far have been less aligned with our mission than expected due to shaky business fundamentals for all leagues outside of the NBA. We're learning that our approach to bringing value to NBA positions applies equally to all professional sports. Soccer has emerged as an interesting space for us to build credibility. Not all of our Jerrys are into soccer, but many are and the insights from ownership within the sport are applicable to KH's credibility phase. We're not officially committing to adding soccer to our portfolio, but we continue to explore high quality ownership stakes that align with our mission & phase of our roadmap (credibility). It should be noted that European & Asian leagues continue to be on our horizon, but we need to focus on teams that are running better than breakeven + have a real path to general management influence.
The Future
Krause House is the best minority owner a NBA team could have. From PhD level data scientists that are ready to assist front office analytics teams to a worldwide community that will serve as a supplemental scouting network. Krause House is a dynamically talented community that can ebb & flow with the needs of a NBA team — that's the beauty of a community.
We're no longer just a game plan. It's the first quarter, we're playing well — we've got a lead. The second quarter game plan is to acquire a NBA minority position. This goal is within our reach, there is a path to accomplishing it. We need to stay focused & close out the first half with a big lead. Let's give it everything we've got — WAGBAT!